Board Members
Colm Carroll
Chairman of Retail Excellence
Colm Carroll is Chairman of Carrolls Irish Gifts. Established in 1982, Carrolls employ a team of 270 staff and have 13 stores spread between Dublin, Cork and Belfast. Colm is married to Annette and has 5 children, one of whom (Jonathan) works in the business.
Oonagh O'Hagan
Managing Director, Meagher's Pharmacy Group
Oonagh O' Hagan is the owner and Managing Director of the Meagher's Pharmacy group. Oonagh holds a BSc degree in Pharmacy from Trinity College and qualified in 1996. There are now six Meagher's Pharmacies in Dublin with over forty dedicated employees including ten pharmacists. The Meagher's Pharmacy Group has won many awards including the JCI friendly business award in 2010 and they are the proud employer of the Young
Pharmacist of the Year 2011, Eugene Renehan.
JP Kennedy
Managing Director, TileStyle
JP Kennedy, Managing Director of TileStyle, has over 20 years experience within the retail and construction related industries within Ireland and the UK. TileStyle is a dynamic family owned business and is one of Ireland's driving forces within the retail Tile, Flooring and Bathroom sectors. With over 30 years experience providing our customers with the finest quality products and excellent service, we continue to work hard to innovate and adapt to a constantly changing environment. Our mission is to have the very best people working for TileStyle so as to always exceed our customers expectations. JP is married to Sandy and lives in Co Wicklow.
Paul Kealy
Owner, Tony Kealy's
Paul is the owner of Tony Kealys. Tony Kealys are the largest independent nursery chain in Ireland with 4 stores, 2 in Dublin, 1 in Cork and 1 in Belfast. Tony Kealys are a second generation family business who are renowned for good customer service. Paul is married to Alison with 4 children and they live in Dublin.
David Myers
Head of Group Operations, Heatons
David Myers is Head of Group Operations for Heatons.The group consists of 52 Heatons stores and 39 sports stores (Sports World – ROI | SportsDirect.com- N.I.) which trade in both the Republic Of Ireland and Northern Ireland. The business has been trading for 65 years and is renowned for unbeatable value and quality products. Heatons currently employ a team of 2,000 dedicated staff who are focused on delivering outstanding value and service to their customers. David is married to Zena and lives in Stillorgan, Co. Dublin.
Patrick McCormack
Managing Director, Sam McCauley Chemists
The Sam McCauley Chemist Group is the largest 100% Irish owned pharmacy group and currently has in excess of 550 employees in 28 stores.
Patrick is the Managing Director of Sam McCauley Chemists.
Fergal Doyle
Co-Owner & CCO at Arboretum Home and Garden Heaven
Fergal is the Co-Owner and CCO at Arboretum a dynamic family run business founded over 40 years ago with two stores one in Leighlinbridge, Co Carlow & a new store in Kilquade, Co Wicklow. Commitment to excellence in customer service, store design and continuous innovation has earned the Arboretum the coveted title of National Company of the Year 2016 and National Store of the Year 2015 by Retail Excellence. Fergal's strengths lie in strategic business and marketing strategy with exceptional focus on customer service.
Fergal is married to Kim, has two children and lives in Co Carlow.
Luke Moriarty
Owner and Managing Director of the SuperValu Moriarty Group
Luke Moriarty is owner and Managing Director of The Moriarty Group, based in Palmerstown, in Dublin 20. With interests in the independent supermarket sector, hotels, and property, The Moriarty Group employs over 600 people.
Luke Moriarty's career in the retail sector began in Dublin in 1976, with Dunnes Stores. He founded The Moriarty Group in 1987, when he opened his own SuperValu in Crumlin, followed by further Moriarty's SuperValu supermarkets in Palmerstown in 1988, Balbriggan in 1991, Finglas in 1992, and Skerries in 1996. Luke is also Postmaster at two of the supermarket locations. Luke Moriarty also operates Balbriggan's landmark four-star Bracken Court Hotel, and the four-star Court Yard Hotel in Leixlip, County Kildare. Luke Moriarty is currently President of Balbriggan Chamber of Commerce.
Richard Wehrly
Director at Wehrly Bros. Ltd
Richard is a director of Wehrly Bros.,a fourth generation family jewellers in Sligo. Richard has degree in Marketing from Dublin Institute of Technology and has completed jewellery diplomas including the Professional Jewellers Diploma from the National Association of Jewellers and has achieved DGA status from the Gemmological Association of Great Britain. In 2016, he became president of the Retail Jewellers of Ireland.Fergal is married to Kim, has two children and lives in Co Carlow.
Darren Smyth
Group Head of Retail, Shannon Group plc
Darren Smyth, Group Head of Retail at Shannon Group plc has over 25 years' experience in retail and related sectors. The Shannon Group is a commercial semi state company and includes Shannon Airport, Shannon Heritage, Shannon Commercial properties and IASC. Its retail arm comprises of 4 stores in Shannon Airport, including Shannon Duty free, the world's first duty free and 9 stores across its Shannon Heritage tourist attraction business including well known sites such as the Cliffs of Moher, Bunratty Castle and Malahide Gardens in Dublin. Darren lives in Cork with his wife Jennifer and Daughter Lilia.
Jean McCabe
Owner of Willow
Willow is a womenswear retailer based in the West of Ireland. Jean holds a BEng in Engineering from the University of Limerick but retail became her calling. Willow has 2 stores based in Ennis & in Galway and an online store Willow.ie. Providing their customers with a welcoming, relaxed environment has become synomis with the Willow customer experience and has earned them numerous award titles. Former President of the Ennis Chamber of Commerce and a passionate SME retailer, Jean lives in Clare and is married to Donal.
Lorraine Higgins
Deputy CEO, Retail Excellence
Lorraine Higgins is Head of Public Affairs and Communications with Retail Excellence, Coming from a family who are generations in retail she is also a qualified barrister and a former Senator who served in the 24th Seanad following her nomination by An Taoiseach Enda Kenny. She is a graduate of NUIG and The Honorable Society of King's Inns and has worked as a barrister and law lecturer.
David Fitzsimons
Chief Executive Officer, Retail Excellence
David Fitzsimons is Chief Executive Officer of Retail Excellence. David was involved with the establishment of Retail Excellence in 1995, when he worked with South Dublin Chamber of Commerce. David oversees the strategic direction and operations of this not for profits organisation. Retail Excellence is Ireland's largest retail industry body representing the interests of 1,600 leading companies who employ 110,000 people in the Irish market. David sits on a number of global retail committees including the NRF Global Retail Council.
Our Trustees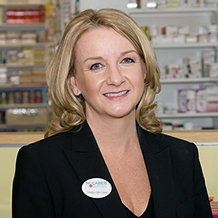 Sharen McCabe
Managing Director, McCabe's Pharmacy Group
Sharen McCabe is Managing Director of McCabe's Pharmacy Group. McCabe's is synonymous with best retail practice and operates twenty three stores in Ireland, primarily in the east coast. McCabe's is a leading provider of healthcare products and services. Sharen is married to Jeff and lives in Dublin.
Kevin Jephson
Director, Ardkeen Quality Food Store
Kevin Jephson is Director of Ardkeen Quality Food Store in Waterford. Ardkeen Quality Food Store is now a second generation food retail business and is respected for specialising in locally sourced foods from artisan food producers. The company is family operated and employs a team of one hundred and thirty dedicated staff. Kevin is married to Sheila and lives in Waterford.
Keith Rogers
Head of Retail, ECCO Footwear
Keith Rogers is Head of Retail with M.Drummy (ECCO Shoes). Ecco is a globally respected footwear brand and the companies Irish retail operations spans twelve store locations. ECCO stores are associated with best in market design and exceptional service standards. Keith is married to Ailish and lives in Dublin.